The great Gaden Monastery was the first monastery of the Gelugpa School of Tibetan Buddhism and was founded in 1409 by the Saint Je Tsongkhapa Lobsang Drakpa (founder of the Gelugpa Order).
Its full name Gaden Namgyal Ling Monastery in Tibetan means Joyous Victorious Monastery. Gaden Monastery is located at the top of Wangbu Ri mountains about 50 kms from the capital city of Tibet, Lhasa.
The legend says that the founder Tsongkhapa, as a young boy in his previous incarnation, offered a crystal rosary to the Lord Buddha. The Lord Buddha gave him a conch shell and predicted that the boy would found Ganden monastery.
A year after Ganden Monastery had been founded, Tsongkhapa discovered the conch shell on Gokpari hill behind Ganden.
In 1416 Tsongkhapa gave the conch shell as an auspicious gift to one of his  four principal disciples, Jamyang Choje Tashi Pelden (1397–1449), who founded Drepung Monastery in 1416 on the outskirts of Lhasa. The conch shell has been retained at Drepung Monastery. Another famous disciple of Je Tsongkhapa, Jamchen Chojey Sakya Yeshe (1354–1435), founded the Sera Monastery in 1419 in Lhasa.
Ganden Monastery together with Sera Monastery and Drepung Monastery are the 'Three Great' university monasteries in Central Tibet.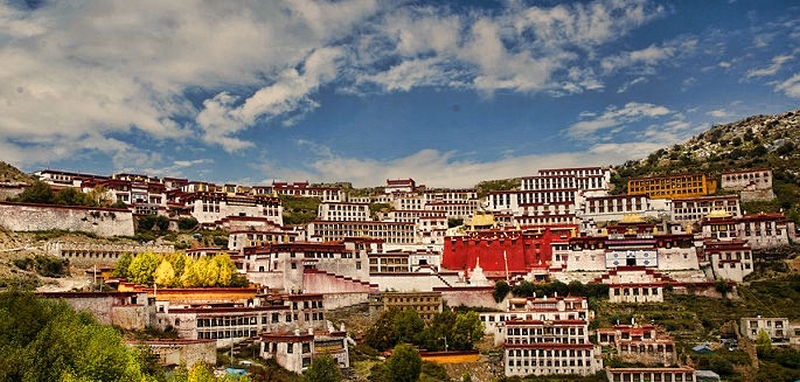 In the West, the Gelugpa Order is the best known school of Tibetan Buddhism and is often associated with the Dalai Lama.
In 1959 the Gaden Monastery had 7500 monks living and studying there. But during the Cultural Revolution, the Gaden Monastery was destroyed and many monks escaped to India where they re-established the Gaden Monastery in South India.
More information on :  www.shargadenpa.org